In honor of the 10th anniversary of Pioneering, Pioneering organized the Smart, Smarter, SmartEAST competition. Various parties requested (innovative) solutions for seven different issues.
The Vechtstromen Water Board, for example, was looking for a solution for the region, in which companies and citizens actively can work together on a solution for climate adaptation in their cities. In this category, Bufferblock took part in the challenge of Vechtstromen Water Board: Drain the rainwater well.
During the Anniversary event of Pioneering on July 5th 2018, the winners were announced. Within this category, the Bufferblock was the winner, but just fell short for the prices of the event.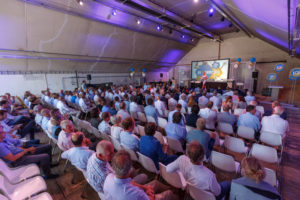 The jury, consisting of Marjet Rutten (chairman), John van der Vegt, Netty Wakker, Miriam Luizink and Evelien Bras, wrote the following about Bufferblock in the jury report:
Problem: Climate-active city, Water Board Vechtstromen
Submission: Innovative and sustainable solution for water storage in urban areas (Bufferblock)
Place of order: 3
Motivation:
The innovative and sustainable solution for water storage in urban areas is a technically simple and well-developed solution (also visually). It seems like a good and affordable replacement for the existing infiltration crates. A solution was sought for a broad target group. The jury does wonder if the citizen target group will apply the solution in their gardens.
The jury cited the following benefits in the application of Bufferblock:
Practical solution that meets the demand for a smart environment.
This solution is an innovative and sustainable solution for water storage in urban areas and thus contributes to a better living environment, in which, in addition to governments, companies and citizens can take active measures themselves. (Smart environment)
Simple and well-developed solution with beautiful examples.
The solution has already been properly calculated.
The jury also gives the team of Bufferblock some advice: In order for the initiative to succeed as a citizens' initiative, it is advisable to speak with many different private parties. The benefits of using the Bufferblock for human capital can also be further investigated.
The Bufferblock team will take the advice of the jury to heart. After the event, the possibilities whether Bufferblock can be applied, will be investigated together with Vechtstromen and different parties from the region.